Airline Cabin Cleanliness
Have you ever wondered just how clean the airplane cabin is onboard your flight?
By Peter Miller, Skytrax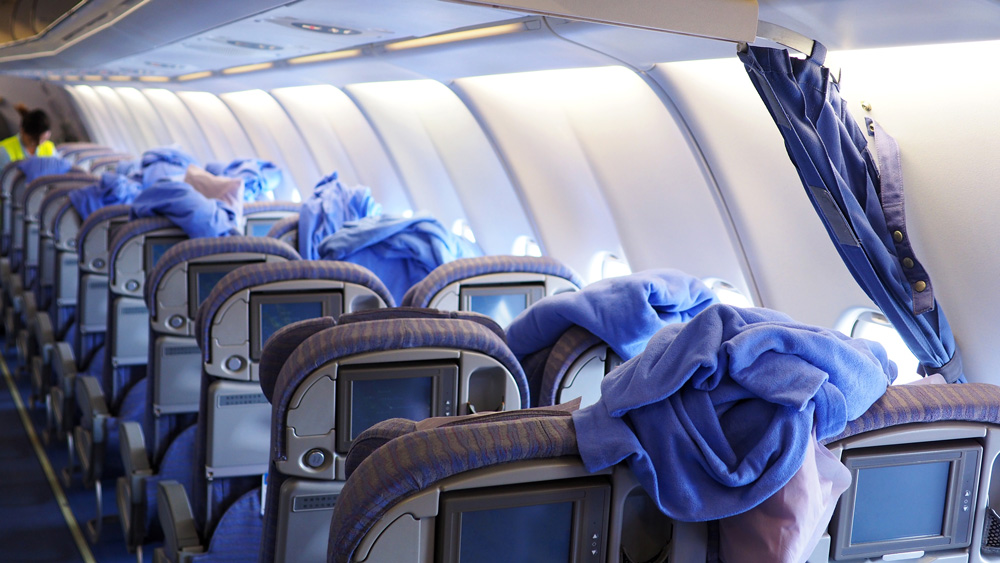 The significance of cleanliness and hygiene cannot be overlooked by any business nowadays, and for air travellers the topic of cleanliness has become an increasingly important factor by which customers judge their experience.
It is airlines across Asia that dominate the top 10 ratings for best aircraft Cabin Cleanliness. In the 2016 World Airline Awards, Cathay Pacific Airways was ranked cleanest airline in the world, based on passengers assessing cleanliness standards of seat areas, tables, carpets, cabin panels and aircraft washrooms.
---
The Cleanest Airline Cabins 2016
Cathay Pacific
EVA Air
ANA All Nippon Airways
Japan Airlines
Hainan Airlines
Korean Air
Singapore Airlines
Asiana Airlines
Garuda Indonesia
Qatar Airways
---
What do you need to look out for on your next trip?
THE CABIN WASHROOMS
Cleanliness of onboard washrooms can be a factor across all cabin types, be it First, Business or Economy Class. Whilst customers may expect a more proactive cleaning service from cabin staff in the premium cabins (not always!), this is seldom the case in Economy Class – particularly at peak times after meal services and pre-arrival when customer usage is intense, and cabin staff are often busy completing other duties.
If you are of a particularly squeamish disposition, try to use the washrooms at quieter times (e.g. rest periods on longer flights, or if you have an aisle seat, during the meal service) as you may find conditions somewhat better.
Wet floors in the toilet are often a problem, so wear your shoes. Underneath the toilet seat is one of the grimiest areas and using a paper towel to lift/lower the seat is suggested.
Depending on customer types, there are varying attitudes from passengers towards leaving the washroom in a clean and dry condition. The simple fact is that we can all play a small part in making conditions more pleasant by taking a few seconds to tidy up after using the washroom. If you find the washroom conditions unpleasant, you should mention this to the cabin staff, who (on most airlines) should apply the necessary maintenance.
THE AIRLINE SEATS
This is likely to be the first place you notice cleanliness issues. Badly stained or marked seat covers are very clear but quite rare amongst most airlines. Problem zones tend to be carpet areas around seat legs/struts which attract a lot of crumbs and debris and are often overlooked during transit cleaning. With an increasing number of airlines insisting that customers place small bags and other items under the seats this is a space you might want to check out before storing your items.
Seat pockets and other storage compartments may also hold a few unpleasant surprises and it is advisable to check before storing your tablet or paperback. This is another area overlooked by many airlines during cleaning – and finding chewing gum, discarded tissues and half eaten food is not as uncommon as one might imagine.
Headrest covers are probably not noticed by many passengers. Whilst seldom seen on short haul flights, on longer flights it is worth taking a few moments to see if this has been changed. You are likely to be reclined back in this seat for many hours and who knows what the previous users personal hygiene standards were like.
Strands of hair, stains, marks, tears etc are all good indicators that a headrest cover hasn't been changed and when your flight is delayed because of a late arriving aircraft it is sometimes here that maintenance staff may try to shorten the turnaround time by leaving previous covers in place. The paper, cloth or leather headrest covers do not protect the entire headrest and it is difficult to imagine what germs may be harboured in or around the headrest. Did the person in the seat before you have head lice? In effect, would you be comfortable using the same pillow case used by someone else.
TRAY TABLES
The armrest table storage space used on bulkhead seats in Economy Class and across many Business Class cabins is often a hotbed of crumbs, wrappers and other debris from previous flights. Seldom cleaned properly by maintenance staff it is worth paying extra attention as you remove the table from the storage before the meal service.
On most airlines, if you find problems with table cleanliness many cabin staff will be happy to rectify the situation but as a precaution, consider carrying a pack of anti-bacterial hand wipes for such instances.
WINDOW SEATS AREAS
Around your seat area, on short haul flights where there are often no pillows available, customers in the window seats naturally use the cabin wall/window to lean against and this is often an area where greasy residues are observed. This is a regularly overlooked area and it can be particularly unpleasant if you are the next customer.
PILLOWS AND BLANKETS
Most airlines provide blankets in plastic packaging which is an indicator you are receiving a freshly laundered product. This isn't always a guarantee, highlighted in China where laundry workers claimed they washed just 20 per cent of blankets used by passengers and that no disinfectants were used. Only airline blankets with obvious stains were washed, and the rest were packed for reuse.
If you board a flight and find blankets that are loosely folded on the seat, you should assume this is being reused from the previous flight. Japan Airlines, has done away with the plastic packaging and instead stitches the blanket together to indicate cleanliness, but they remain the exception rather than the norm.
Pillows are normally provided unpackaged, and similar to headrest covers the only real indicators a product is not fresh is human hair and other unexplained marks or stains. If you are offered pillows and blankets on a short haul flight sector, it is often wise to assume these may have been used by other customers.
INFLIGHT ENTERTAINMENT
Many do not associate the IFE system with cleanliness and hygiene. The IFE handset/remote, will have been used by hundreds (if not thousands) of passengers before you, and is another item that is often not thoroughly cleaned on a day-to-day basis. Where the remote is stored in an armrest pocket, this is another dirt trap for hair, crumbs and debris that you might not initially be aware of.
Whilst the IFE systems offer touchscreen functionality, it is worth paying attention to screen cleanliness (finger prints, smears and other marks). Whilst you can't avoid touching these on a typical flight, passengers should consider making use of wet wipe towels to wipe down the screen.
The airline supplied headsets are worth attention, make sure this is in a sealed plastic bag in Economy Class or often in a case in First and Business Class. At most, the over-ear style products will have been sprayed with disinfectant spray, so where additional covers are provided in the bag it is a good idea to use them.
A way to guarantee cleanliness is to take your own earphones or headsets and this is now increasingly popular. Nowadays, many IFE systems offer sockets that fit most commercially available headset products.