Bangkok Airways wins top 2023 World Airline Award for the World's Best Regional Airline, with Aegean Airlines taking second place ahead of Starlux Airlines in third position.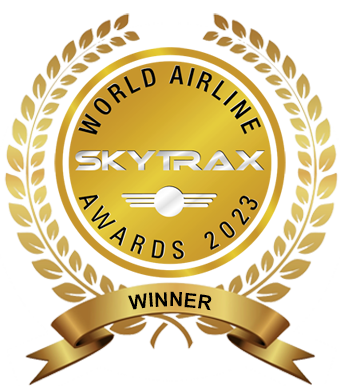 For the World Airline Awards, regional airlines are defined as full service carriers that primarily operate domestic and / or International flights up to approx 6 hours. Whilst some regional airlines may operate a small number of longer flights, the core market for this airline classification are short / medium haul routes where customer product and service expectations are different to long haul routes.
World's Best Regional Airlines 2023

Mr. Puttipong Prasarttong-Osoth, President of Bangkok Airways PLC commented, "Amidst our most challenging time in aviation history, Bangkok Airways has still been striving to improve the quality of our products and services with the hope to be one of the top-class regional airline brands in the world. And today, there is proof that we are achieving that goal by being chosen once again by our customers from around the world and being named the World's Best Regional Airline and the Best Regional Airline in Asia 2023. On behalf of the management and staff at Bangkok Airways, I would like to express our sincere gratitude to our customers who continued to have trust and confidence in our products and services and for casting their votes for us. I feel deeply honored and delighted to receive these prestigious awards."
Best Regional Airlines in Africa 2023
Best Regional Airlines in Australia/Pacific 2023

Lim Kim Hai, Rex's Executive Chairman, said, "Being voted as the best regional airline means so much to the 2,000 staff in the Rex Group as they go above and beyond every day in conditions that are still extremely challenging. We will live up to this honour by maintaining our record for safety and reliability delivered with our trademark country hospitality."
Best Regional Airlines in Asia 2023
Best Regional Airlines in Central Asia & CIS 2023

The President of AZAL, Jahangir Asgarov, noted: "We are proud that AZAL maintains a high level of quality and remains one of the leaders of the industry in the region. AZAL will continue to strive for new heights and offer passengers only the best service. We thank our customers for their trust and the entire AZAL team for their hard work and dedication to the airline".
Best Regional Airlines in Europe 2023

Dimitris Gerogiannis, CEO of Aegean Airlines said: "We are very proud to have been named the Best Regional Airline in Europe for an astounding twelfth time. A recognition that increases our responsibility towards our customers. Our success lies in the passion and tireless efforts of our exceptional team, who consistently go above and beyond to deliver an extraordinary travel experience. We also owe this achievement to the trust and loyalty of our valued passengers, whose unwavering support has been the cornerstone of our success. We thank them for choosing AEGEAN. We remain committed to raising the bar even higher, continuously improving our services, and innovating to meet the evolving needs of our passengers."
Air Nostrum (Iberia Regional)
Best Regional Airlines in India / South Asia 2023
Best Regional Airlines in North America 2023

"We are honored to accept the award for Best Regional Airline in North America. As the fifth largest airline in the United States, we strive to put care at the center of the guest experience by offering award-winning customer service and an industry-leading loyalty program," said Nat Pieper, senior vice president of fleet, finance and alliances for Alaska Airlines. "Together with our regional partners, we serve more than 120 destinations across the U.S., Belize, Canada, Costa Rica and Mexico on our fleet of mainline and regional aircraft. And thanks to our 28 oneworld and additional global airline partners, our guests can travel to more than 1000 destinations all over the world."
Best Regional Airlines in South America 2023

Abhi Shah, President of Azul Brazilian Airlines said: "We are pleased to once again be elected as the Best Regional Airline in South America. This award is dedicated to my 14,000 incredibly passionate and dedicated colleagues who deliver an industry leading operation and customer experience. Serving 158 destinations across several continents with a diverse fleet ranging from 9 seat Cessna's to 334 seat A350s is extremely challenging so the fact that we are a 5 times winner of this award is a true testament to our crew members."
Best Regional Airlines in China 2023
Best Regional Airlines in Central America / Caribbean 2023

Pedro Heilbron, Copa Airlines CEO said: "We are honored to be the recipients of this prestigious award for the eighth consecutive year. Our priority has always been to provide a reliable, world-class and safe travel experience, ensuring our passengers reach their destinations on time. This award serves as a motivation for the Copa team to continue raising the bar and uphold the highest standards of excellence in the industry. We express our sincere gratitude to our valued customers for their continued support and loyalty. We also extend our sincerest appreciation to each and every member of the Copa team, their dedication and commitment to excellence makes this accomplishment possible."