AirAsia enjoys continued success being named the World's Best Low-Cost Airline in 2023, with Singapore's Scoot taking the top title as the World's Best Long Haul Low-Cost Airline. Volotea is named the Best Low-Cost Airline in Europe.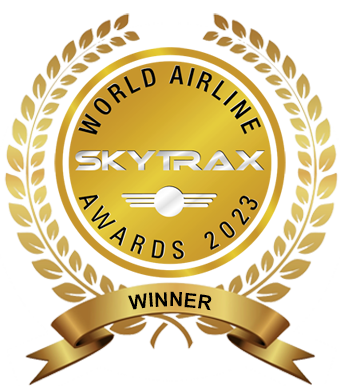 World's Best Low-Cost Airlines 2023

Capital A CEO, Tony Fernandes said: "We are immensely proud and grateful for this meaningful award given to us by the Skytrax organisers, voters, and the incredible supporters of AirAsia. Getting an award of excellence for 14 consecutive years is a remarkable achievement, one that fills our hearts with joy and humility. This is an extraordinary feat for any company in any industry, even more so for an Asean brand. We would like to dedicate this award to our outstanding team of 22,000 Allstars, who tirelessly strive to provide the best service and experience to millions of our guests, both on the ground and in the air. Together, we have redefined low-cost aviation and set new benchmarks, and we will continue to soar even higher by listening, adapting and innovating. Thank you for being a part of our incredible journey."
World's Best Long Haul Low-Cost Airlines 2023

Scoot Chief Executive Officer, Mr. Leslie Thng, said: "We are honoured to be recognised as the World's Best Low Cost Long Haul Airline once again. This award reinforces Scoot's commitment to provide our customers with quality service, differentiated products, contemporary experiences and great value. We look forward to welcoming more customers on board and will continue to raise the bar in redefining value travel for the industry."
Best Low-Cost Airlines in Africa 2023

Kirby Gordon CMO of FlySafair said: "We are extremely proud to be receiving this award for the third time. What makes this award stand out is the knowledge that it is based off real customer feedback. From the start we have focused on providing a hassle-free travel experience with on-time performance as our primary differentiator. Having the efforts of all our staff recognised at this level once again is truly an honour. We cannot wait to continue building on this momentum and create even better travel experiences for our customers in the second half of 2023."
Best Low-Cost Airlines in Asia 2023
Best Low-Cost Airlines in Europe 2023

Carlos Muñoz, Founder and CEO of Volotea said "We are extremely happy to receive this very prestigious award for the first time. Looking well after our clients is part of our DNA from day one, combined with very competitive prices, which over 50M clients have enjoyed by now. The prize is a recognition to all the hard work, dedication, and client orientation that our 1,700+ crews and staff, and also our airport partners, show every day, since the start of our company some 11 years ago. Congratulations to all of them, and thanks to Skytrax for this recognition."
Best Low-Cost Airlines in China 2023
Colorful Guizhou Airlines
Best Low-Cost Airlines in the Middle East 2023

Bander Almohanna, CEO of Flynas said: "We are pleased with this high-level recognition that reflects flynas commitment to develop our services, our most modern fleet and our guest experience. In parallel with the expansion and growth plan, we launched under the slogan "We Connect The World to the Kingdom", which confirms our leading position in the low-cost aviation sector in the region." Almohanna pointed out that the achievement is also registered in the Kingdom's success record. "Winning this prestigious award is a testament to the continuous excellence of flynas, which we seek to maintain by consolidating our position as the best LCC in the Middle East and one of the top 10 carriers in this category worldwide, with the ambition to be among the top 5 and to be the owner of the most modern fleet in the region. As we signed a new purchase contract for 30 new aircraft two days ago, which is among our plans to increase the fleet size and after the company's board of directors approved to increase our orders of new aircraft to 250 aircraft last year, we are taking steps towards strengthening our capabilities to participate effectively in achieving the Strategy for the Civil Aviation Sector in KSA, which aims to reach 300 million passengers and 100 million tourists annually, connecting the Kingdom with 250 international destinations by 2030," Almohanna added.
Best Low-Cost Airlines in India & South Asia 2023

Pieter Elbers, CEO of IndiGo, said, "We are very honored and proud to receive this prestigious title of the Best Low-Cost Airline in India and South Asia at the esteemed World Airline Awards. Winning this for the thirteenth time is a testament to IndiGo's relentless and consistent commitment to providing on-time performance, courteous and hassle-free service and affordable fares across an unparalleled network. This recognition fuels our motivation to continue raising the bar and redefining the benchmarks for low-fare travel. We extend our heartfelt gratitude to our loyal customers, my super colleagues at IndiGo, and valued partners for their support in making IndiGo the airline of choice in the region. We remain steadfast in our mission of giving wings to the nation by connecting people and aspirations. We strive to ensure that more and more passengers can choose air travel every day with IndiGo."
Best Low-Cost Airlines in Central Asia & CIS 2023

Adrian Hamilton-Manns, Managing Director of FlyArystan said: "Today's award is a testament to the entire FlyArystan team. We have over 750 pride members and each day they are devoted to building the best Low-Cost Airline possible. Since the launch of FlyArystan in 2019 we have doubled the total number of passengers in Kazakhstan's domestic market. In 2023 alone over 9 million people in Kazakhstan will chose to fly; nearly 50% of them will choose the low fares that FlyArystan has pioneered. Combining our low fares with great service has resulted in today's achievement and we are grateful to the World Airline Awards for recognising our airline with this prestigious award. We are very proud!"
Uzbekistan Airways Express
Best Low-Cost Airlines in North America 2023

"We are honored to be recognized for the value and on-board experience we provide our customers," said Dave Davis, President and Chief Financial Officer, Sun Country Airlines. "Our focus on the leisure traveler allows us to offer flights when demand is strongest, and our business model keeps fares affordable. We look forward to continuing to grow when and where our customers need us most."
Best Low-Cost Airlines in South America 2023

JetSMART Airlines CEO, Estuardo Ortiz said: "First of all, I would like to thank all of our customers and our employees at JetSMART, for their support and appreciation to obtain for the second time in three years the Best Low Cost Airline in South America by the World Airline Awards. This award is clear testament that the JetSMART model has been well accepted by travelers in the region and that our value proposition SMART works; delivering a reliable and on-time travel experience, aboard a brand-new airplane at ultra-low fares".
Best Low-Cost Airline in Australia / Pacific 2023
Best Low-Cost Airline in Indonesia 2023
Best Low-Cost Airline in the UK 2023
Best Low-Cost Airline in Germany 2023
Best Low-Cost Airline in Japan 2023
Best Low-Cost Airline in the USA 2023
Best Low-Cost Airline in Canada 2023
Best Low-Cost Airline in Spain 2023
Best Low-Cost Airline in Eastern Europe 2023
Best Low-Cost Airline in Southern Europe 2023
Best Low-Cost Airline in Northern Europe 2023
Best Low-Cost Airline in Western Europe 2023
Best Low-Cost Airline in Vietnam 2023