The Best Airline Staff Service awards recognise the combined airline staff service across both the airport and the onboard experience, and the results for all global regions are shown below.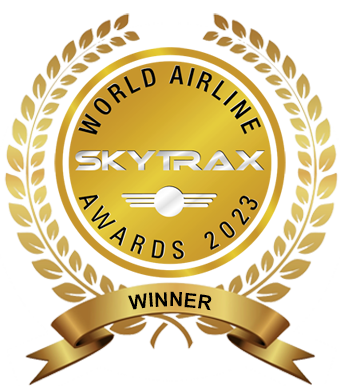 Best Airline Staff in Africa 2023

Tom Shivo, Chief People Officer Kenya Airways said: "We are extremely excited and humbled to be recognized as having the Best Airline Staff in Africa. We take great pride in our employees, who drive our competitive advantage. Our commitment to diversity, equity, and inclusion is a cornerstone of our success, as it empowers our team to deliver on our brand promise of service with an African touch to our customers."
Best Airline Staff in Asia 2023

Shinichi Inoue, President and CEO of ANA, said, "Through the commitment of all our employees to deliver unbeatable customer experience, ANA has earned 3rd place in the prestigious SKYTRAX Airline of the Year award as well as three categories," "With the multiple recognitions, it is undeniable that ANA's track record is unprecedented. However, while we are humbled by these accolades, we are determined to continue improving our quality to bring about further innovation. To meet the evolving needs of our passengers in the post-COVID era, we will raise our efforts to unite the world in wonder by offering customer oriented service, products and experiences at the next level."
Best Airline Staff in Australia/Pacific 2023

André Viljoen, CEO of Fiji Airways said: "Our unwavering commitment to quality service delivery is reason that Fiji Airways is today the Best in Australia and the Pacific. We may not have as much resources as larger airlines, but we have the Fijian spirit of hospitality and care. As the National Airline, we embrace and champion these values in everything we do, and this sets us apart as an airline. The fact that these awards are determined purely on guest feedback makes our two accolades all the more special. Our customers have consciously chosen Fiji Airways above all the other participating airlines in the region."
Best Airline Staff in China 2023

Mr Yongzheng Ding, President of Hainan Airlines said: "Great appreciation for the recognition of Hainan Airlines brand and service. To be awarded Best Airline in China for 12 years is the great encouragement. I really appreciate all Hainan Airlines staff efforts for their hard work. In the coming days Hainan Airlines will dedicate herself in service improving and innovation offering passengers travel experience beyond expectation with oriental characteristics."
Best Airline Staff in Central Asia & CIS 2023
Best Airline Staff in India / South Asia 2023

Vinod Kannan, Chief Executive Officer, Vistara said "We are overjoyed to have done it again! It is extremely gratifying for all of us at Vistara to be awarded the Best Airline in India and South Asia for the third time, and Best Airline Staff in India and South Asia for the fifth time. We are also ranked 16th amongst the world's best airlines along with winning these stellar accolades at 2023 World Airline Awards by Skytrax. These awards are a strong endorsement of our customers' trust in our thoughtful service, consistent operational excellence and constant innovations, all aimed at elevating their travel experience. These awards are also a recognition of the hard work put in by our employees, especially the frontline teams, who have given their all to Vistara throughout our eight years of existence. We would like to express our sincere gratitude to Skytrax for these coveted awards which strengthen our resolve to delight our customers at every touchpoint and on every journey."
Biman Bangladesh Airlines
Best Airline Staff in Europe 2023

Austrian Airlines CEO, said: "We are all really proud that we have been named European Champion in the category 'Best Airline Staff Service'. This shows that our customers feel the passion for service and hospitality that we aim to live in this company every day. Particularly after the challenging Corona years, this award has a very special meaning for us and motivates us even more to give our very best in the upcoming busy summer season!"
Swiss International Air Lines
Best Airline Staff in the Middle East 2023

Eng. Abdulaziz Al Raisi, Chief Executive Officer of Oman Air, said, "Our people are the heart and soul of our airline. We are driven by a passion that embodies exceptional professionalism and going above and beyond to create extraordinary and unforgettable moments for every guest. Receiving this prestigious award for the sixth time is a source of immense pride and a testament to our unwavering commitment to set new benchmarks for guest experience, year after year."
Best Airline Staff in North America 2023

"These awards are a testament to our team's continued focus on delivering outstanding products, an incredible network and world-class service," said Alain Bellemare, President – International at Delta Air Lines. "I'm incredibly proud of all the Delta employees who have stepped up in a time of unprecedented demand to deliver excellent service to our customers around the world."
Best Airline Staff in South America 2023

Paulo Miranda, Chief Customer and Experience Officer of LATAM Airlines said: "We are very thankful to our customers for this recognition. We have continuously focused on improving our products and services, and we are very proud to offer the best air travel experience in South America. Also and more importantly, I want to dedicate this accolade to our extraordinary people. It is their tireless efforts, their unwavering dedication, and their relentless pursuit of excellence that have propelled us to this remarkable recognition."
Best Airline Staff in Central America / Caribbean 2023