The COVID-19 Airline Excellence Awards recognise those airlines selected for providing the highest health, hygiene and safety protocols during the global pandemic.
The 2021 COVID-19 Airline Excellence Awards

Airlines around the world have introduced a broad range of hygiene measures to protect customers and staff when travelling by plane. From the moment a ticket is booked, it has been essential for airlines to provide thorough information resources, social distancing measures, and enhanced hand sanitising systems. Most global carriers have significantly increased the depth and frequency of facilities cleanliness in the airport and onboard flights, in addition to providing hygiene products and COVID-19 safe service systems.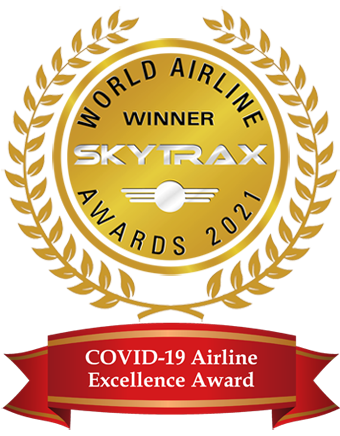 COVID-19 standards were rated across a number of key areas including; information and signage, distancing marking and controls, face mask usage consistency amongst staff and passengers, visibility and frequency of hand sanitisers, standard and availability of hygiene products, adapted service in the airport and onboard flights, and cleaning standards and frequency during the end to end travel experience.

The Winners of the special 2021 COVID-19 Airline Excellence Awards are:

Aegean Airlines
Aeroflot Russian Airlines
Aer Lingus
airBaltic
AirAsia
Air Astana
Air Canada
Air France
American Airlines
ANA All Nippon Airways
Austrian
British Airways
Cathay Pacific Airways
Citilink
Delta Airlines
easyJet
Emirates
Etihad Airways
Finnair
Fiji Airways
Garuda Indonesia
Hainan Airlines
Iberia
Indigo
KLM Royal Dutch Airlines
Japan Airlines
JetSmart
Korean Air
LATAM Airlines
Lufthansa
Oman Air
Qatar Airways
Ryanair
Scoot
Singapore Airlines
Swiss International Air Lines
Turkish Airlines
United Airlines
Vietnam Airlines
Virgin Atlantic
Vueling Airlines


COVID-19 Airline Excellence Award winners