2016 World Airline Awards announced
Emirates is named the World's Best Airline at the SKYTRAX 2016 World Airline Awards.
By Peter Miller, Skytrax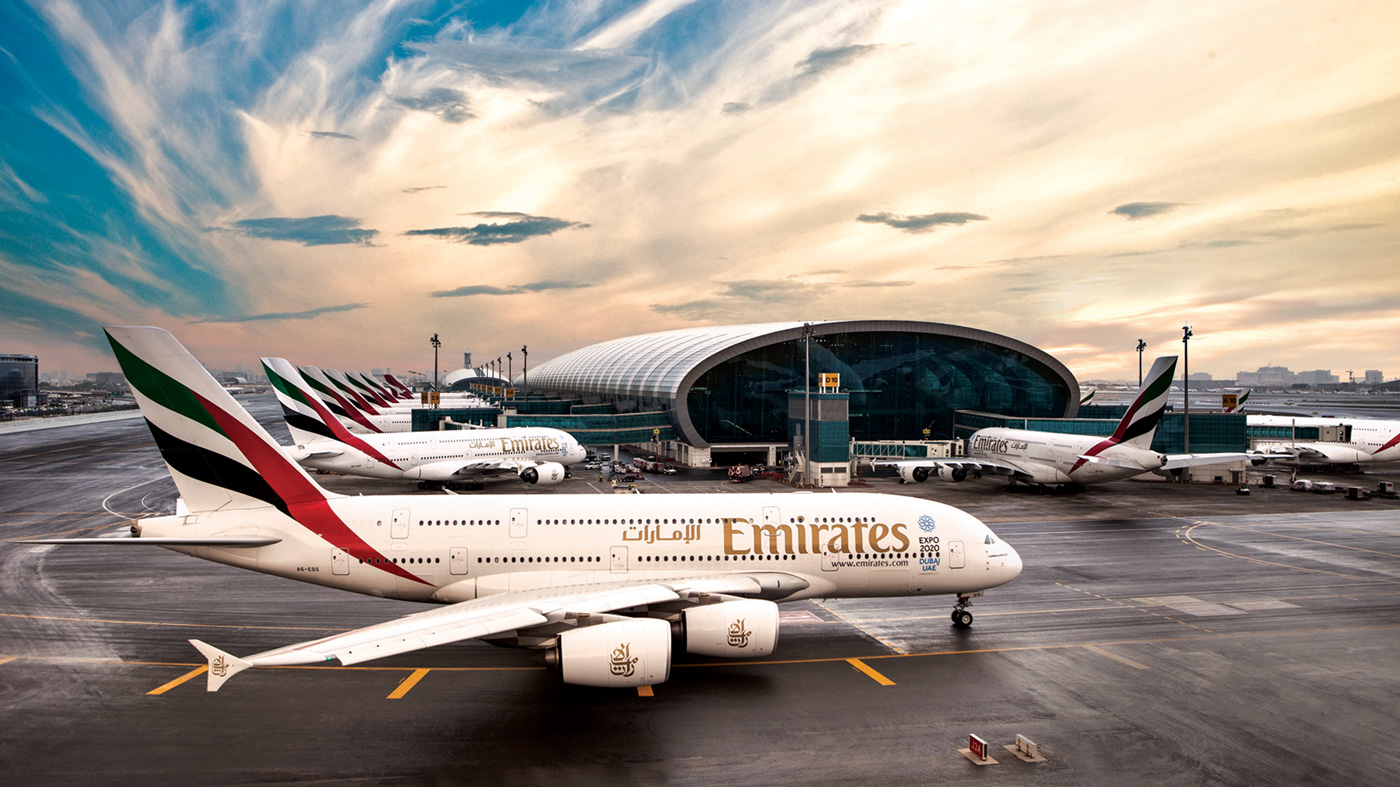 Emirates was voted the World's Best Airline by customers at the 2016 Skytrax World Airline Awards held at Farnborough Airshow. This is the fourth time Emirates has won this top prize in the awards history. The airline also won the World's Best Inflight Entertainment award. Emirates improved its position across a range of awards categories performing well in First, Business and Economy Class survey sections and achieving a top-10 finish in the World's Best Cabin Staff category.  Sir Tim Clark, President of Emirates said: "We are honoured to be recognised by the prestigious Skytrax awards. Emirates has always put our customers at the heart of what we do, and we work hard to deliver the very best experience possible to our customers at every touchpoint, every day, all around the world. We constantly invest in our product and services, both on the ground and in the air. We listen carefully our customers, and then relentlessly challenge ourselves to deliver and exceed expectations. The fact that these awards are based on the direct feedback from passengers is gratifying and wonderful recognition for all of the hard work that's gone into creating the Emirates experience."
Qatar Airways was second in the global ranking and won a range of top awards being named the World's Best Business Class, the World's Best Business Class lounge and Best Airline Staff in the Middle East. Qatar Airways Group Chief Executive, Mr Akbar Al Baker, said: "It is a very proud moment for Qatar Airways to be named World's Best Business Class, Best Business Class Airline Lounge and Best in the Middle East by the prestigious Skytrax Airline Awards, not only for myself, but for every individual at Qatar Airways who creates the passengers' experience – from our on-board Cabin Crew to the chefs overseeing our catering, to the technicians who ensure the cabin is in perfect working order. Our commitment to continued success is unwavering and a testament to the dedication of our global teams. The airline's renowned service, modern aircraft and luxurious cabins, combined with an expanding global network, continue to set Qatar Airways apart from the competition."
Third placed Singapore Airlines achieved top success winning the award for Best Airline in Asia, as well as the title for the Best Business Class Airline Seat. Commenting on the awards. Singapore Airlines said: "We are honoured to receive these prestigious awards, which are a validation of the hard work and dedication of our staff around the world who ensure that Singapore Airlines remains competitive on a global level."
Cathay Pacific Airways was ranked No 4, with the airline also declared the World's Best for Cabin Cleanliness. It was a double celebration as Cathay also picked up the award for Best First Class Lounge for its recently renovated facility at its home base airport in Hong Kong. Cathay Pacific Director Service Delivery James Ginns said: "At Cathay Pacific we take pride in providing our customers with premium products and services, both in the air and on the ground. We're delighted that they've recognised the quality of our signature lounges and inflight cabins. We know how much they enjoy comfortable seats, diverse inflight entertainment, excellent food, fine wines, and luxury amenities along with great service, and we'll continue to ensure we deliver the very best to enable them to live a life well travelled."
ANA All Nippon Airways achieved repeat success, ranked No 5 in the world in the global results and also securing the awards for World's Best Airport Services and Best Airline Staff in Asia for the second successive year. Mr. Osamu Shinobe, President and CEO of ANA, commented on the awards: "ANA is committed to becoming the world's leading airline and providing all passengers with a superior air travel experience. We are focused on providing a personalised, high-quality service which ensures the comfort and safety of all our customers."
Etihad Airways was ranked No 6 worldwide and won three awards. The airline was named as having the World's Best First Class cabin, Best First Class seat and Best First Class catering.
Turkish Airlines ranked No 7 in the world were yet again named as the Best Airline in Europe. The Istanbul based carrier was also acknowledged for its Business Class catering with top prizes for both onboard and lounge dining standards. Mr İlker Aycı, Chairman of Turkish Airlines said: "the Skytrax World Airline Awards are the result of the largest airline passenger satisfaction survey in the world. Every year it delights us that millions of travellers again recognise Turkish Airlines as the Best Airline in Europe. The airline continues to be renowned for its seamless services, including our dining and in-flight entertainment experiences. The award marks a continued period of success for us."
The world's newest 5-Star airline EVA Air ranked No 8 in the world and named as the Best Transpacific Airline. The Taiwanese carrier was also considered to have the Best Business Class Comfort Amenities. Mr Steve Lin, EVA Air's Chairman, said: "We appreciate passengers' support for EVA Air and, with steady growth in the future, EVA will further expand its global network. Take the North America market for example, EVA will launch Taipei to Chicago route on 2nd November and, by the end of 2016, we will operate 77 weekly flights in this market; providing passengers from Southeast Asia with more convenient options to fly back and forth. EVA's cabin service items are also worth mentioning, our Royal Laurel Class provides Rimowa overnight kits, noise-cancelling headphones, comfortable sleepwear and Fiji Water. Passengers seem to respond with positive feedback, and we will be sure to keep improving our offering to fit every passenger's needs."
In ninth place, Qantas was dominant in the Australia & Pacific region winning the Best Airline in Australia / Pacific for the fourth successive year and also taking the award for Best Airline Staff in Australia & Pacific and Best Premium Economy Catering. Qantas Group CEO, Alan Joyce commented : "Qantas is really pleased to be so well-represented with three Skytrax awards and a place in the top 10 overall best airlines globally. These awards and our improved ranking in the top ten match up nicely with the really strong customer satisfaction we're seeing through our own passenger surveys. We often say that our people are our best asset and the win for Best Airline Staff in Australia-Pacific is a testament to what a great job they do on the ground and in the air. It's also great to see Jetstar recognised as the Best Low Cost carrier in the region for yet another year." 
Completing the world's Top 10 airlines, Lufthansa was again successful being named as the Best Transatlantic Airline for the fifth time and also winning the Best Airline in Western Europe award. Dr Reinhold Huber, Lufthansa Vice President Passenger Experience Design commented: "We are happy and honoured to be awarded best Airline in Western Europe and best Transatlantic Airline by over 18 million passengers for the 4th time in a row. This underlines our efforts to create the perfect experience for every passenger on every journey on a Lufthansa flight."
Indonesian flag carrier Garuda Indonesia achieved a most significant success securing the top prize of World's Best Cabin Staff for the third straight year. To celebrate this award, Garuda Indonesia cabin staff entertained guests at the Awards ceremony by performing a live traditional dance. Expressing his delight with the airline's most recent achievement, the President and CEO of Garuda Indonesia, M. Arif Wibowo said : "the success in winning The World's Best Cabin Crew award once more in 2016 reflects the highest commitment from everyone in Garuda Indonesia, particularly the cabin crew, in delivering the best service with highest standard to all passengers. Service delivery is one of our biggest concern, as well as safety and security. After achieving the award in previous two years, we committed to give our best to all passengers, mainly because we do understand that to maintain the prestigious title is way harder than to achieve. As in the Sky Beyond strategy, Garuda Indonesia will still be focusing in service enhancement program in the future. We would like to thank our loyal passengers for supporting us continuously hence enabling us to win the "The World's Best Cabin Crew" award for the third consecutive years. We proudly present this precious award specially for our nation, Indonesia".
Hainan Airlines secured the top awards for Best Airline in China, in addition to the Best Airline Staff Service in China. Other notable success for Hainan Airlines was their No 12 global rating. At the Awards event, Hainan Airlines was also presented with their 5-Star Airline Certification. Mr Xie Haoming, President of Hainan Airlines commented "It is a great honor for Hainan Airlines to be awarded as a 5-Star Airline. To become a 5-Star airline, one must provide passengers with excellent service and best flying experience as well as continuous technological innovation and human care. It is the unremitting endeavour on its service system, facilities, route network and safety that makes Hainan Airlines keep the reputation as a 5-Star airline for the sixth consecutive year."
Thai Airways won a major award being named as the World's Most Improved Airline. The airline's premium Lounge Spa facility in Bangkok was also honoured with an award for Best Airline Lounge Spa Facility. Mr Charamporn Jotikasthira, President of Thai Airways commented: "These awards are a testament to the hard work and dedication of everyone at Thai Airways International, devoting great attention to detail in providing service to passengers and having such determination to better ourselves for improved customer satisfaction. It is a testament that we are on the right path – growing and expanding sustainably to serve every customer, whom we value greatly. I am indeed very proud of THAI to have achieved this recognition."
For the second successive year, Virgin America was named the Best Airline in North America. The San Francisco based airline, also took the award as the Best Low Cost Airline in North America. "It is an incredible honor to be named the Best Low Cost Airline in North America, and the Best Airline in North America – the latter for the second consecutive year – in the prestigious World Airline Awards," said Virgin America President and CEO David Cush. "This distinction is a testament to our approximately 3,000 teammates who are so passionate about their work. Thanks to them, over the past nine years, we've been able to revolutionize the industry and create an airline that people actually love flying." 
Air France again celebrated success with the airline's First Class cabin securing 2 top awards. For the third successive year, the Air France First Class lounge dining at Paris CDG Airport was judged to be the world's best by customers and onboard, their First Class comfort amenities were ranked best in the world.
Asiana Airlines Economy Class cabin achieved a clean sweep winning the awards for World's Best Economy Class, Best Economy Class seat and Best Economy Class catering. This was the second successive year the airline has secured the award for best overall Economy Class. Asiana Airlines President & CEO Kim Soo Cheon said: "We would like to express our deepest gratitude to our customers who voted us for the best Economy Class cabin, best seats and best onboard catering. Asiana Airlines is extremely honored and thrilled that its economy class product and service standards were highly recognized as the world's best. We will continue to make our utmost effort to provide total satisfaction to every customer."
Air New Zealand (for the fifth time in awards history) took the top position for World's Best Premium Economy Class, in addition also securing the award for Best Premium Economy Seat. Air New Zealand continues to be the market leader in the eyes of its customers.
Austrian Airlines secured an excellent victory being voted by customers as having the Best Airline Staff in Europe – this is the second successive year the Vienna based carrier has secured this top prize. The CEO of Austrian, Kay Kratky said: "I am pleased that our customers have given us such high marks. This shows me that the quality of our service on the ground and in the air is convincing to passengers. I would like to particularly thank our employees for their efforts each and every day."
Bangkok Airways was named as the World's Best Regional Airline for the second time. The carrier was also declared Best Regional Airline in Asia. Capt. Puttipong Prasarttong-Osoth, President of Bangkok Airways commented, "as a Thai national carrier, we are extremely delighted and proud to have received the awards which truly reflect a higher level of service and safety standard of Thailand aviation. And as a carrier, these achievements have fully manifested our continuous commitment to strive for excellence in airline services. It is not only served as a proof of passenger's recognition, but also a great encouragement to motivate us to attain even better performance. On behalf of everyone at Bangkok Airways, I would like to thanks all the voters and most importantly – the dedication of our staffs to excel in a complete airline services. We promise to keep up with our services to provide the highest standard to underline our commitment to be ASIA'S BOUTIQUE AIRLINE".
AirAsia maintained its dominance as the World's Best Low Cost Airline – this is eighth consecutive year that AirAsia has achieved this top position. There was further success with the long haul AirAsia X judged to have the Best Low Cost Airline Premium Cabin and Best Low Cost Airline Premium Seat.
Finnair continued their run of success winning the Best Airline in Northern Europe for the seventh successive year. The airline also successfully entered the global top-30 airlines. "We are extremely proud to be named by our customers as the best airline in Northern Europe. We develop our customer experience with passion and this award proves that our customers value our Nordic way" says Piia Karhu, SVP Customer Experience Development, Finnair.
Norwegian secured top prizes winning the Best Low Cost Airline in Europe for the fourth successive year, in addition to the award for Best Long Haul Low Cost Airline – for their expanding long haul operation. Norwegian's CEO Bjørn Kjos said: "I am honoured to accept these awards but this recognition belongs most of all to Norwegian's hard-working staff and our loyal passengers. We believe that not only should air travel be affordable to all, but also that low-cost can still mean high-quality. It is truly rewarding to see that our brand new planes, expansive route network, low fares and the great service offered by our crew have been appreciated by passengers. These awards give us huge momentum as we continue our ambitious expansion plans in Europe, the US and beyond."
Aegean Airlines was voted Best Regional Airline in Europe continuing their dominance in this category winning this award for 6 consecutive years. Mr. Dimitris Gerogiannis, CEO of Aegean Airlines stated: "All of us at AEGEAN are deeply humbled by this important award, the Skytrax World Airline Award, for the 6th consecutive year. It only motivates us to do more for our valued customers. We take service extremely seriously and are proud that our effort to focus on this key area of our business has been acknowledged at Passengers Choice awards. I wish to dedicate this award to all team members of AEGEAN who have been consistently stepping up our services to attract and retain our valued customers."
Aeroflot Russian Airlines was crowned the Best Airline in Eastern Europe. This is the fourth consecutive year the Moscow based carrier has been awarded this top award and the fifth time in the history of the survey. Mr Vitaly Saveliev, CEO of Aeroflot said: "Winning the award for Best East European Airline for the 4th time is momentous for Aeroflot. To be a repeated Skytrax winner is a great honour. Aeroflot's sole aim is to become better, more efficient, more creative — and to offer our customers a world-class level of service. We are determined to achieve new victories, more recognition, including boosting our service offering."
South African Airways retained its Best Airline in Africa title – continuing to be the only airline to hold this title in the 14-year history of the awards. "We are very pleased to have won the Skytrax Award as Best Airline in Africa, for the fourteenth consecutive year, which demonstrates that SAA can rightfully take its place as one of the leading airlines in the world, despite the challenges (it) faces. Awards are important in building staff morale as they instil a sense of pride from our customers and employees alike." says Musa Zwane, SAA Acting CEO.
Air Astana was named Best Airline in Central Asia & India for the fifth consecutive year, in addition to being voted as having the Best Airline Staff Service in Central Asia & India. Mr Peter Foster, President and CEO of Air Astana commented: "Every one of our staff is dedicated to consistently providing service excellence and therefore we are honoured to receive these prestigious Skytrax awards for the fifth consecutive year. We continue to deeply appreciate the enormous support shown by our customers in the Skytrax survey and will continue to strive for even higher standards in the future."
LAN Airlines continued their run of success winning the Best Airline in South America for the third successive year. This is the fifth time that LAN has won this prestigious award. Of course, this is the last time the LAN Airlines name will be present at the awards, with the new brand of LATAM Airlines now relevant for future award events.
Porter Airlines was a repeat winner of the award as the Best Regional Airline in North America. Mr Robert Deluce, President and CEO of Porter Airlines said: "Three years in a row is a significant accomplishment. The commitment of our entire team to providing the highest level of service to our passengers is what helps us stay at this consistently high level. I believe that the service aspect of our value proposition sets us apart, and being recognized as North America's best regional airline is a true representation of this."
Australia's Jetstar Airways won the Best Low Cost Airline in Australia & Pacific for the fifth successive year, with Toronto based Porter Airlines named the Best Regional Airline in North America for the third year.
IndiGo was in seventh heaven as it won the Best Low Cost Airline in India & Central Asia for the seventh time in as many years. Speaking about the achievement, Aditya Ghosh, President IndiGo said: "We are humbled and honoured to win this award for the seventh consecutive year. What makes it even more special is that it comes at a time when we are completing our ten years of operations in India. This achievement has only been possible because of the unflinching support of our 14,000 members of the IndiGo family, who every single day come to work with one commitment- to provide our flyers with a hassle free experience, ensuring that they reach their destination on time. What's also heartening to see is the impact that our people at IndiGo have been able to create on the larger community through their volunteering efforts – whether it's about making a difference to a child's life through our 6E Scholars programme, working towards a cleaner environment or empowering women from the humblest of socio-economic backgrounds. Each individual at IndiGo has been able make a change and define a larger purpose. These are truly exciting times for the Indian aviation industry and we are looking forward to continue to provide an unmatched quality travel experience to our customers." 
Azul Brazilian Airlines came out top for staff service. The airline was awarded for having the Best Airline Staff in South America, in addition to securing the prize for Best Low Cost Airline in South America for the sixth time. Mr Antonoaldo Neves, President of Azul said: "These awards demonstrate that we are even closer to our vision, which is to build the best airline in the world. I thank all our crewmembers, to act impeccably in their day to day, allowing Azul to reach even higher achievements".
Thomson Airways was named as the World's Best Leisure Airline. The UK based carrier continues to dominant this global award, having taken this top prize for four consecutive years. Managing Direct of Thomson Airways, Mr John Murphy said: "We are incredibly proud to receive the World's Best Leisure Airline award again. We're committed to providing our customers with amazing holiday experiences and so are constantly looking for ways to modernise the fleet and enhance the on board experience. We have recently celebrated the arrival of the larger Boeing 787-9 Dreamliner into the fleet as part of our five-year vision, which will enable us to fly even more customers to their dream destinations."
Panama based Copa Airlines took home the award as the Best Airline in Central America & Caribbean. The carrier achieved a clean sweep of awards for the region, taking the top prizes for Best Airline Staff Service and Best Regional Airline.
Hawaiian Airlines was a first time winner securing the top prize of Best Airline Staff in North America. As a first time recipient of this highly-coveted award, Hawaiian Airlines President and CEO Mark Dunkerley said: "Hawaii is a special place with a rich history and the unique culture of aloha. Our employees deliver our authentic Hawaiian hospitality to over 11 million guests every year. On behalf of our entire 'ohana, we're honored to accept this award."
Ethiopian Airlines was judged to have the Best Airline Staff Service in Africa by customers. This is the second time the Addis Ababa based airline has won the top prize in this award, also achieving a good result in the World's Most Improved Airline category with an eighth placed finish this year. The CEO of Ethiopian Airlines, Mr Tewolde GebreMariam said: "We are proud that Skytrax, the most reputed customer-service tracking organization in the airline industry, has recognized our service delivery for the second time. We thank SkyTrax for this recognition and make the pledge to our customers to work even harder to meet their high expectations. We also thank our valued customers for the strong vote of confidence in our services and for choosing Ethiopian as their preferred travel partner. I also take this opportunity to thank and appreciate the hard work of my 12,000 strong men and women at the Ethiopian family who have made the airline a global winner."
Shanghai based Spring Airlines was named as the Best Low Cost Airline in China. Commenting on their Award, Spring Airlines said: "Spring Airlines is truly honored to be recognized by Skytrax as China's best Low Cost Carriers. In the dynamic and rapidly growing Chinese marketplace, travelers are increasing focused on both value and service standards. This Skytrax award is confirmation of Spring's commitment to evolve continuously with the changing needs of our passengers. It is also one more step closer to attaining our goal of being not only North Asia's largest bit also its favourite low fare airline."
Plaza Premium Group was a first time winner securing the top prize for the World's Best Independent Airport Lounge for its Heathrow Terminal 2 facility. Speaking about the Award, Mr. Song Hoi-see, Founder and CEO of Plaza Premium Group said: "We are deeply humbled by receiving this important honour and are extremely gratified that all of our hard work to exceed our travellers' expectation is recognized. I would like to thank all my Plaza Premium Lounge colleagues who have worked tirelessly to ensure we offer innovative products and world-class services to our travellers."
Royal Air Maroc continued their run of success by winning the Best Regional Airline in Africa for the third year, while Chilean regional carrier Sky Airline completed a hat trick by winning the Best Regional Airline in South America award.
Star Alliance was named the World's Best Airline Alliance, and also secured the Best Airline Alliance Lounge award for the second successive year for its Los Angeles Airport facility. Receiving the award, Mark Schwab, CEO Star Alliance said: "I am accepting this award on behalf of more than 430,000 employees who deliver our customer promise to more than 640 million passengers each year. Regaining this accolade shows that investing into technology which facilitates the delivery of our Alliance customer benefits is paying off and that travellers are noticing a difference. Following the recent decision of our Chief Executive Board, we will invest further in modern systems and so continuously improve the Alliance travel experience."